5 Star Horse Contour Western Saddle Pad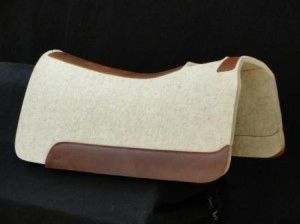 5 Star Horse Contour Western Saddle Pad
IMPROVES SADDLE FIT–NO MORE OVER-CINCHING!
No other saddle pad or saddle blanket is necessary with the 5 Star Contoured Saddle Pad. Double padding creates movement and slippage. This slippage is usually compensated for by over cinching. The contoured fit of our pads means a limited need for cinching with minimal saddle movement. Square cut pads do not follow a horse's back contour. This can result in unnecessary pressure and improper saddle fit which may cause pain and injury to your horse.
PAD THICKNESS
1/2″ Under Pad
Great for showing reining, cutting or pleasure horses when you still need protection yet want to put a colorful blanket over the under pad for show purposes.
3/4″ Regular Pad
An excellent all-around saddle pad for those that need a daily exercise training pad and may also need to throw a blanket over it for the show ring.
7/8″ Thick Pad
The best all-around use saddle pad recommended for trail riding, team penning, cutting, reining, and barrel racing.
1″ Extra Thick Pad
Designed with ranch work in mind, for roping, performance, colt starting or heading to the mountains with lots of gear.
1-1/8″ Supreme Roper Pad
Specially engineered for team roping, calf roping, steer stopping and performance.
SEAT THE PAD
Place pad and saddle in desired position. Insert your fingers under front of pad and lift saddle slightly so the pad can be raised up into the gullet area of the saddle. Lower the saddle. This will remove any potential wither pressure with any pad.
EASY CLEAN-UP
Simply spray pad with water, rub soiled areas in a circular motion with fingers or a rubber curry comb and hang to dry. A gentle detergent may also be necessary. Do not lay flat on it's back (upside down). With this reasonable care, pad will last 1500-2000 hours.
5 Star 100% Wool Felt Contoured Saddle Pads contain 90% virgin wool and 10% reworked wool giving your animal protection that will last 2,000+ hours with reasonable care. 5 Star's felt has been made with heat, steam and pressure which eliminates any concerns about shrinkage or distortion as you begin to consider cleaning needs.
Care & Cleaning
Equipment: 5 Star Cleaning Sponge, Rubber Fingered Curry, Flat Rubber Curry
Prevent dirt and hair build-up on the under side of pad by brushing occasionally. This keeps old hair from trapping dirt & sweat, and embedding deep into the pad.
To remove embedded hair and dirt, rotate a dry 5 Star Cleaning Sponge in circular motion on dry pad. Wipe hair off sponge surface with your hand occasionally.
For pads with heavy crusted sweat and dirt, break up areas with rubber fingered curry or scrape gently with a dull edged object being careful not to cut the felt. Use a vacuum to remove excess grime and loose material. A brush or a swift slap with your hand may also be used to sweep away dirt and hair.
Washing
Washing is only necessary after 100+ hours of use or when pad is beginning to feel hard in pressure point zones (shoulder points & loin areas). Avoid using soap, as you will risk leaving soap residue that might irritate the animal.
When washing, make every effort to wash pad from the center to outer edges in all directions. Simply hang or hold pad by gullet hole and begin rinsing from the center to outer edges of the pad. Rotate the pad as you rinse so that the dirty water flows outward to all the edges rather than just soaking into the pad. NEVER LAY PAD FLAT AND RINSE, as it only drives dirt and sweat salts into the pad. This is true with any type of pad.
Use only enough water to dissolve sweat salts and dirt residue so that they will be carried away in rinse water. Then hang by gullet hole or lay naturally over a rail. DO NOT LAY PAD ON IT'S BACK TO DRY as it will stretch the leather and pull out the inner lacing. After pad is dry, flex pad in the areas that have not softened. This will fluff and loosen the felt which restores optimum compression protection.
FOLKS THAT USE AND BELIEVE IN 5-STAR PADS
Canyon Trail Rides – Utah
Grand Canyon Mule Rides – Arizona
Leslie Desmond – Writer/Clinician "Bill Dorrance"
Loren Basham – Champion Trainer
Julie Kennedy – Champion Trainer
Sandy Collier – NRCHA Champion
Doug Milholland – NRHA Champion
Darren Miller – NRCHA Champion
J.D. Anderson – NRHA Champion
North American Team Roping Association
Tammie Wood – 2000 Rookie Team Roper, 3-Time WNFR Qualifier
Doloris Toole – WPRA Barrels, NFR Finalist 2000-2001
Reyna Prewitte – WPRA Barrels, NFR Finalist 2001-2002
Rachel Spraul – WPRA Barrels, NFR Finalist 2001-2002
Molly Swanson Powell – WPRA Barrels, NFR Finalist 2001-2002
Judy Myllmaki – WPRA Barrel Champion & Trainer, NFR Finalist