Basic Ultra ThinLine Western Shock Absorbing Saddle Pads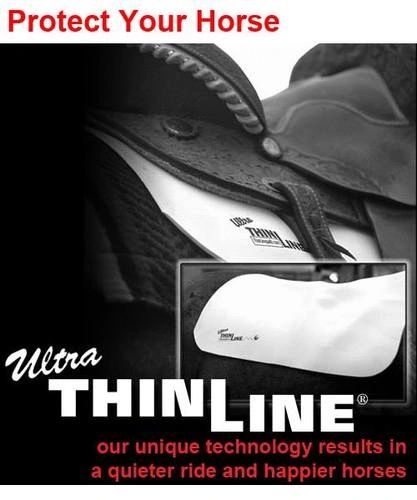 Basic Ultra ThinLine Western Shock Absorbing Saddle Pads
Pure Ultra ThinLine: designed to be used over your daily pad and under your saddle.
Reduce Rider Movement, Protect Horses' Backs, Improve Saddle Fit
* Encourage horses to soften and engage faster * Non Slip-stops saddle movement *ThinLine protection for horse and rider without added bulk .
Great Reining riders like Mike McEntire, Jon and Seth Ingrim, Tom and Mady McCutchen,
use this pad daily for increased performance in all their show horses.
Available in Black, Three Sizes
30"X30"
30"x32"
Rounded Skirt: 28.25" across shoulder, 27.75" panel length, and 23.75 across seat
Care Instructions: These pads don't require washing, but if you choose to do so we recommend ThinLine Cleaning products (wipes or sprays) or baby wipes. You can also hose off or machine wash (in a front loader, cold water, no dryer). White pads may be bleached. If basic pads are washed in machines with agitators they can catch and tear the pad. What to watch out for: Keep your ThinLine and Ultra ThinLine basic pads away from chemicals such as show sheens, oils, or leather conditioners.
Made in the USA.