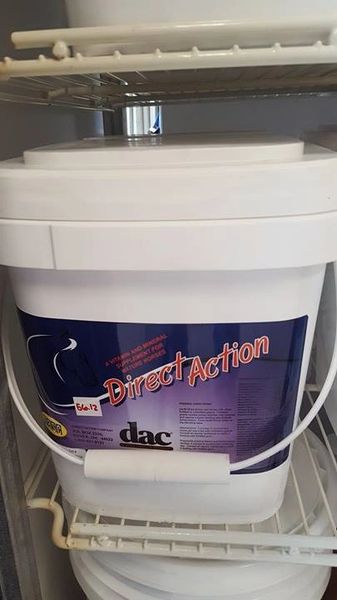 Dac Direct Action 20lb
DIRECT ACTION 
A VItamin and Mineral Supplement for Mature Horses for use in horses diets where additional supplementation of these nutrients may be beneficial
FEATURES
Enhanced with B-vitamins
Can be fed with fortified or non-fortified grains
Increased palatability
Essential Amino Acids
SPECIAL INGREDIENTS
dac® Direct Action is a multivitamin & trace mineral concentrate, for use in horses diets where additional supplementation of these nutrients may be beneficial.
Essential Amino Acids - Essential amino acids must be supplemented in the horse's diet, as they are not able to produce these themselves. These amino acids are important in developing healthy muscle, hoof and tissue as well aiding several biochemical pathways within the body.
FEEDING DIRECTIONS
dac® Direct Action can be fed with either fortified or unfortified grains. Fortified grains contain added vitamins and minerals and require a lower feeding rate of dac® Direct Action. Feed dac® Direct Action at the following rates:
Maintenance: 2 scoops (2 ounces) per horse per day if fed with unfortified grains. Consult an equine nutritionist or dac® if feeding with fortified grain.
Pregnant/Lactating Mares and Performance Horses: 4 scoops (4 ounces) per horse per day. Consult an equine nutritionist or dac® if feeding with fortified grain.
Feeding rate based on 1000 lb horse.
Guaranteed Analysis
Calcium (max): 9% (2557 mg)
Calcium (min): 8% (2273 mg)
Copper (min): 340 ppm (9.6 mg)
Iodine (min): 75 ppm (2.1 mg)
Iron (min): 1,450 ppm (41 mg)
Manganese (min): 1,000 ppm (28 mg)
Phosphorus (min): 5.5% (1563 mg)
Potassium (min): 0.8% (227 mg)
Selenium (min): 8.5 ppm (0.2 mg)
Vitamin A (min): 100,000 IU/LB (6250 IU)
Vitamin D (min): 10,000 IU/LB (625 IU)
Vitamin E (min): 500 IU/LB (31 IU)
Zinc (min): 3,000 ppm (85 mg)
Ingredients
Distillers dried grains with solubles, calcium carbonate,
calcium phosphate, dehydrated alfalfa meal, dry whey
product, corn oil, salt, potassium chloride, choline chloride,
zinc sulfate, ferrous sulfate, magnesium oxide, vitamin A
supplement, vitamin E supplement, manganese sulfate,
copper sulfate, cobalt sulfate, sodium selenite, vitamin B-12
supplement, folic acid, niacin supplement, biotin, natural
and artifi cial fl avor, vitamin D3 supplement, menadione
sodium bisulfate complex (source of vitamin K activity), DL
methionine, calcium pantothenate, ribofl avin supplement,
thiamine hydrochloride, ethylenediamine dihydroiodide, and
pyridoxine hydrochloride.