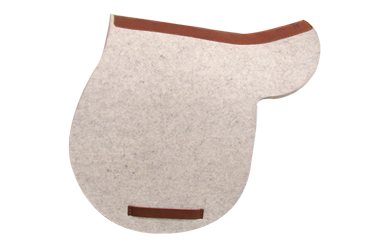 English: Hunter
The English Hunter 5 Star Saddle Pad is a contoured 100% Virgin Wool Felt designed to provide the highest compression protection rating for your horse's back while engaging in the rigorous riding associated with hunter disciplines. Contoured to fit your horses back, with a gullet hole at the front making this pad very user and equine friendly. The 100% pure virgin wool felt wicks away moisture, cleans up easily and stabilizes your saddle with limited cinching. Hand-made in the USA!
Pad Specifications:
41" wide x 20" length at spine (23" Long at the longest point) (16 1/2" Long on the drop down)
Colors: Natural, Black, Cinnamon, Dark Chocolate, Turquoise, Hot Pink, Purple & Red
Thickness: 1/2", 3/4", 7/8", 1"
5 Star recommends 1" – 2" of pad showing around the perimeter of your saddle. Measure your saddle before ordering for proper fit.
*** email us with the size and color ****