Farnam Tri-Tec 14 Fly Repellent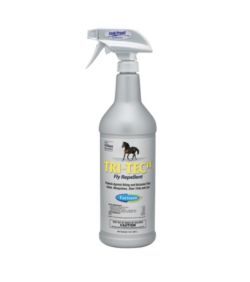 Farnam Tri-Tec 14 Fly Repellent
Farnam Tri-Tec 14 Fly Repellent

Please Note: Product is undergoing a rolling packaging change and may not appear as image shown.
No change has been made to the formulation of this product, however.

Combines botanically-derived pyrethrins with cypermethrin to form a fast-acting, long-lasting fly control formula that protects against six species of flies, mosquitoes, gnats, fleas and ticks for up to 14 days. Contains a sunscreen which protects against both forms of the sun's harmful, UV rays. Water-based formula won't irritate even sensitive-skinned horses. Unique water-resistant formula contains a special conditioner that binds to the hair shaft so it keeps working even in moist conditions or when the horse sweats.
Usage and Directions:
Shake well before using. To protect horses from horse flies, house flies, stable flies, face flies, horn flies, deer flies, gnats, mosquitoes, lice and deer ticks that may transmit Lyme disease, thoroughly brush the horse's coat prior to application to remove loose dirt and debris. For dirty horses, shampoo and rinse thoroughly.
Wait until coat is completely dry before applying TRI-TEC 14™ Fly Repellent.
TRI-TEC may be applied either as a spray or as a wipe. For horse's face, always apply as a wipe using a piece of clean absorbent cloth, toweling (Turkish) or sponge. Wear rubber glove or mitt when applying as a wipe. Spray or wipe horse's entire body while brushing against the lay of the coat to ensure adequate coverage. Avoid getting spray into horse's eyes, nose or mouth. Application should be liberal for best residual results. Reapply every 5 to 7 days under normal conditions for initial applications. As protection builds, reapply every 10 to 14 days as needed. Also, reapply each time animal is washed or is exposed to heavy rain.
Active Ingredients:
Cypermethrin CAS #52315-07-8 0.15%
Pyrethrins CAS #8003-34-7 0.2%
Piperonyl Butoxide Technical CAS #51-03-6 1.6%
Butoxy Polypropylene Glycol CAS #9003-13-8 5%
Other Ingredients:
93.05%
Additional Information
Hazards to Humans and Domestic Animals Caution:

Humans:
For animal use only. Not for use on humans. Harmful if swallowed. Avoid contact with eyes, skin or clothing. Avoid breathing spray mist. Avoid contamination of food. Wash hands with soap and water after use.

Horses:
Avoid contact with eyes or mucous membranes. Harmful if swallowed. Avoid breathing spray mist. Avoid contamination of food.

Statement of Practical Treatment:
-If swallowed: Contact a physician or Poison Control Center immediately. Drink 1 or 2 glasses of water and induce vomiting by touching back of throat with finger or by administering syrup of ipecac. Do not induce vomiting or give anything by mouth to an unconscious person.
-If inhaled: Remove victim to fresh air. Apply artificial respiration and/or seek medical attention if indicated.
-If on skin: Remove contaminated clothing and wash skin thoroughly with soap and water.
-If in eyes: Immediately flush eyes with plenty of water. Get medical attention if irritation persists.
Environmental Hazards:
This product is toxic to fish. Keep out of lakes, streams and ponds. Do not contaminate water by cleaning of equipment or disposal of wastes. Do not apply to any body of water. Do not contaminate water when disposing of equipment wash waters.

Storage and Disposal:
Storage: Store in a cool, dry place.
Pesticide Disposal: Securely wrap empty original container in several layers of newspaper and discard in trash.
Container Disposal: Do not reuse empty container. Wrap container and put in trash.

Warning(s):
Not for use on horses intended for human consumption.

Keep out of reach of children.
Limited Warranty and Disclaimer: Buyer assumes all risk of use, storage or handling of this material not in strict accordance with directions and usage. In no event shall seller's liability exceed the purchase price of this product.