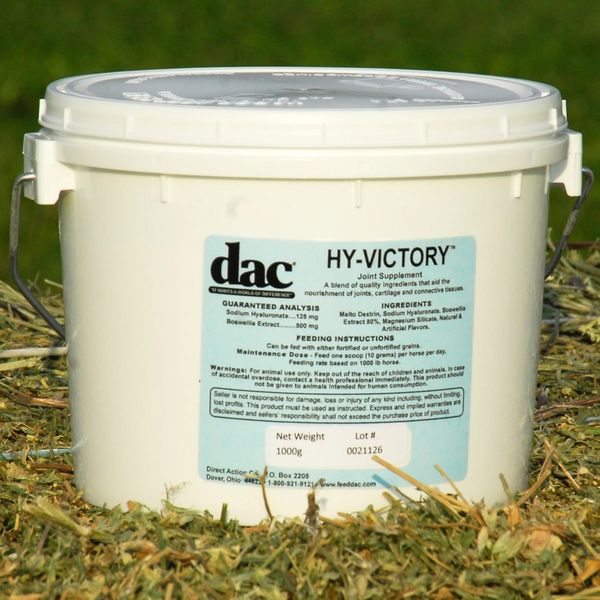 Hy-Victory 1000g
HY-VICTORY
Joint Supplement - A blend of quality ingredients that aid the nourishment of joints, cartilage and connective tissues
FEATURES
125 mg Sodium Hyluronate

500 mg Boswellia Extract

Highly Palatable
dac® Hy-Victory™ is a blend of quality ingredients that aid the nourishment of joints, cartilage and connective tissues.
Sodium Hyaluronate - is a glycosaminoglycan (GAG) that provides structural components to the synovial fluid and provides protective and nutritive functions to the joints. It functions as a tissue lubricant and is thought to play an important role in modulating the interactions between adjacent tissues.
Boswellia Extract - Boswellia is a genus of trees known for their fragrant resin which may help support a healthy inflammatory response..
DIRECTIONS FOR USE
dac® Hy-Victory™ can be used with either fortified or unfortified grains.Use dac® Hy-Victory™ at the following rates:
Maintenance Dose – Use one scoop (10 grams) per horse per day.
Dosing rate based on 1000lb horse.
ACTIVE INGREDIENTS
Sodium Hyaluronate: 125 mg
Boswellia Extract: 500 mg
Active Ingredients
Sodium Hyaluronate, Boswellia Extract 80%
Inactive Ingredients
Malto Dextrin, Sodium Hyaluronate, Boswellia Extract 80%, Magnesium Silicate, Natural & Artificial Flavors.
Warranty Information
Money Back Guarantee within 60 days of purchase