one gallon Pyranha Wipe N Spray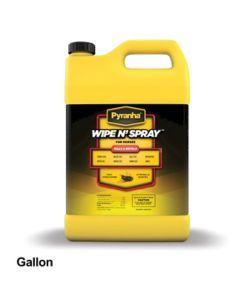 one gallon Pyranha Wipe N Spray
Pyranha® Wipe N' Spray™
Pyranha® Wipe N' Spray™ is a pyrethrum-based formula that is applied directly on the animal. This ready-to-use product provides fly protection and imparts a high sheen to the hair when brushed out. A favorite of show horse owners, effective protection results from only 1 to 2 oz. per head. Wipe N' Spray is citronella-scented and contains lanolin as a coat conditioner. It has been proven effective on biting flies, mosquitoes, gnats, fleas and ticks.
Note: Cannot Ship to Alaska, Hawaii, or Puerto Rico, or anywhere in Canada. Cannot Ship Air, Must Ship Ground.
Item Specifications:
Directions for Use:
It is a violation of Federal law to use this product in a manner inconsistent with its labeling. Do not use on horses intended for slaughter.
Wipe N' Spray has been especially developed for use on horses. Apply by either soft towel or fine spray mist.
Use to Wipe On:
First, brush the animal to remove dirt and dust. Moisten (but do not wet to the point of dripping) a soft cloth and rub over the hair. It is best to apply by rubbing against hair growth. Give special attention to legs, shoulders, shanks, neck and facial areas where flies are most often seen. Only a light application is needed. Avoid using an excess amount. Do not wet skin. After application, brush out thoroughly to bring out bright sheen on the coat. Repeat daily or as needed.
Use as a Spray:
Apply as a fine spray mist to horses for fast paralysis and kill of flies. Do not wet horse's skin or exceed 2 oz. per application.
Active Ingredients:
Pyrethrins: 0.1%
*Piperonyl Butoxide, Technical: 1.0%
Butoxypolypropylene, Glycol: 15.0%
**Inert Ingredients: 83.9%
*Equivalent to 0.8% (butylcarbityl)(6-propylpiperonyl) ether and 0.2% related compounds
**Contains Petroleum Distillates.
Precautionary Statements:
Hazards to Humans and Domestic Animals:
Caution: Harmful if swallowed, inhaled or absorbed through skin. Causes moderate eye irritation. Avoid breathing vapors or spray mist. Avoid contact with skin, eyes, or clothing. Wash thoroughly with soap and water after handling. Remove contaminated clothing and wash clothing before reuse.
Keep out of reach of children.
Environmental Hazards:
This product is toxic to fish. Do not apply directly to water. Do not apply where run-off is likely to occur. Do not contaminate water by cleaning of equipment or disposal of equipment washwaters. Apply this product only as specified on the label.
Physical or Chemical Hazards:
Do not use or store near heat or open flame. Buyer assumes all risk of use, storage and handling of this product not in strict accordance with directions given herewith.
Storage and Disposal:
Do not contaminate water, food or feed by storage or disposal.
Storage:
Store in a cool, dry place. Do not store near heat or open flame.
Disposal:
Wastes resulting from use of this product may be disposed of onsite or at an approved waste disposal facility.
Container Disposal:
Triple rinse (or equivalent). Then offer for recycling or reconditioning, or puncture and dispose of in sanitary landfill, or by incineration, or, if allowed by state and local authorities, by burning. If burned, stay out of smoke.