Royal Blue Custom Airbrushed Iconoclast Boots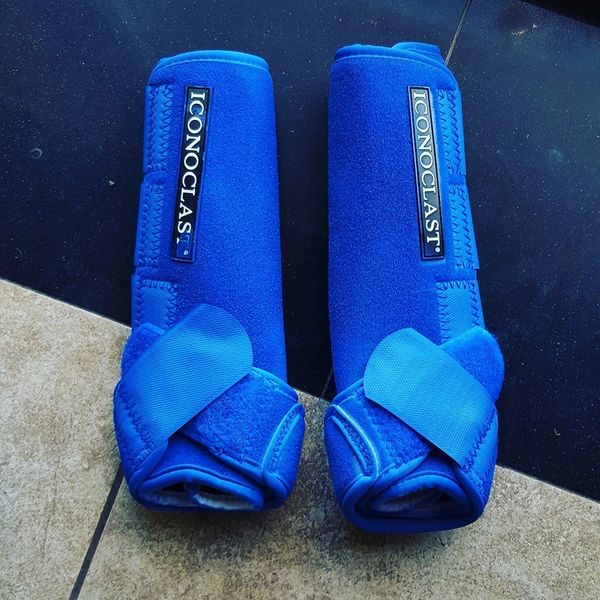 Royal Blue Custom Airbrushed Iconoclast Boots
"It's not a typical equine sport boot. It's a revolution"
Iconoclast® Orthopedic Support Boots feature our patented Double Sling Straps® for unparalleled lateral support. With its evenly distributed support to the suspensory branches, Iconoclast® is the only boot that truly lifts and cradles the equine leg. Designed to reduce joint interference and restriction, this is the perfect all around boot for every equine discipline.
Designed to use every day while riding to aid in the prevention of soft tissue damage of the lower legs, Iconoclast® Orthopedic Support Boots will help your horse feel more confident with each step he takes, in and out of the arena.
THE ICONOCLAST® DIFFERENCE
The Iconoclast® Orthopedic Support Boot has absolutely REVOLUTIONIZED equine leg support. Iconoclast® Boots are specifically designed to support and protect the suspensory and sesamoidial regions by providing 360-degree support of the equine leg. Never has this method of support been provided for the equine athlete through a strap on, non-restrictive device.
Our entire line of Iconoclast® Boots were designed by horse trainers and leading veterinarians who were unsatisfied with the performance of every other equine boot in the market place. The equine leg needs support and protection against the daily rigors of extreme physical activities and there has not been a boot that adequately meets both of those demands until now. THAT IS THE ICONOCLAST® DIFFERENCE!
MEASUREMENT & SIZING CHART
The sizing chart below is appropriate for all Iconoclast® Orthopedic and Rehabilitation Boots.
We recommend using a soft tape measure. If you do not have a soft tape measure you can use something like string, wrap it around the fetlock, mark where the end meets the rest of the string and then simply lay it flat next to a tape measure, ruler or yard stick to get your measurement.
Be sure to measure both the FRONT & BACK fetlocks as they are often different sizes. Customers regularly order boots in one size for the front legs and a different size for the hind legs.
Small: 8.5 - 9.5 in. / 21.59 - 24.13 centimeters
Medium: 9.5 - 10.5 in. / 24.13 - 26.67 centimeters
Large: 10.5 - 11.5 in. / 26.67 - 29.21 centimeters
XL: 11.5 - 12.5 in. / 29.21 - 31.75 centimeters
XXL: 12.5 - 13.5 in. / 31.75 - 34.29 centimeters