Teal Filigree/Chestnut Leather Fringe Browband Tack Set w/Teal-SmkTopaz-Lt. Topaz Crystal Rhinestone Conchos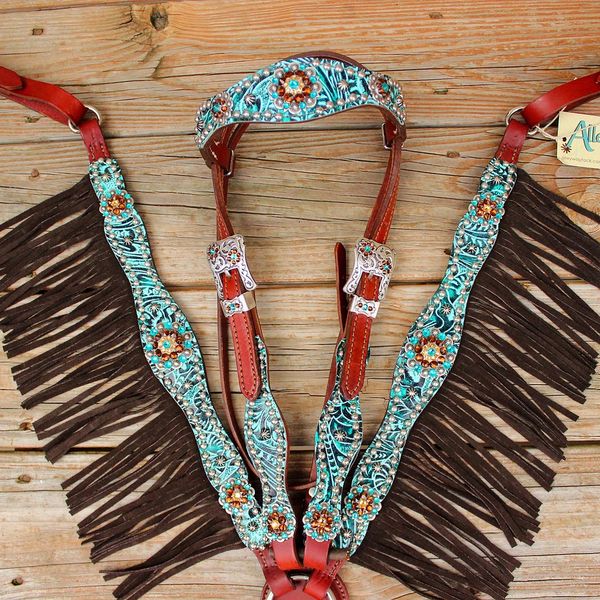 Teal Filigree/Chestnut Leather Fringe Browband Tack Set w/Teal-SmkTopaz-Lt. Topaz Crystal Rhinestone Conchos
Made with premium bridle leather in Chestnut.
Scallop Shape is lined with Teal Filigree embossed leather.
Both Breast Collar and Bridle has 1/4" Silver Harness Spots lining the edges
The center focus of the Breast Collar is (2) Two 1.75" and (4) Four 1.25" Antique Silver Conchos
The Browband Bridle is accented with (2) Two 1,25", (2) Two 1" and (1) One 1.5" Antique Silver Conchos and (2) .75" Antique Silver Western Buckles.
All Buckles and Conchos are accented with Teal, Smoke Topaz & Champagne Premium Crystal Rhinestones.
Breast Collar is lined with Brown suede Fringe.
All Buckles and loops are made with Stainless Steel to prevent Rusting.
All of our products are made by Alleyway Tack and made in North Carolina, USA
***Due to image lighting, Shades may vary.
****Don't Forget about our Limited Lifetime Warranty on replacement Rhinestones on all of our Rhinestone conchos & Buckles..... REMEMBER: We do not replace lost or stolen conchos.