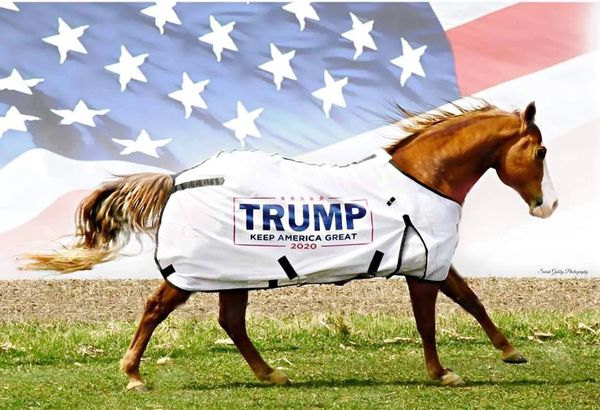 TRUMP Fly Sheet
🇺🇲🇺🇲🇺🇲YESSSSS WE SUPPORT OUR PRESIDENT OF THE UNITED STATES, IF YOU DO NOT LIKE IT MOVE ON, WE DONT NEED YOUR NEGATIVITY IN OUR COUNTRY👌🇺🇲🇺🇲🇺🇲🇺🇲🇺🇲
***PRE-ORDER NOW*** $119.99
Sheets have been tested and approved by our equine athletes.
HIGH QUALITY sublimation fly sheet.
76/78
80/82
84/86
Very adjustable
TRUMP Fly Sheet
Show your support for our President and drive liberal snowflakes crazy! The MONKEYED UP EQUINE Fly Sheet is one of the most durable fly sheets on the market thanks to our ultra-strong mesh. It is constructed of an ultra-strong, uniquely breathable and UV-protective nylon mesh that resists stains and wrinkles. All of our products are tested and approved by our equine athletes.
FEATURES:
UV Protection
Comfortable, soft mesh prevents sun damage by protecting from harmful UV rays. The durable mesh allows for airflow and excellent insect protection.
Front Buckles for Easy Adjustment
Double-Buckle front allows you to adjust to the perfect amount of snugness at the chest.
Fleece Wither Ads Comfort
Our fly sheets fit all breeds with fleece at the withers to prevent rubbing where the sheet meets the mane.
Criss-Cross Belly Straps
Criss-cross surcingles adjust to keep the fly sheet from sliding side to side.
Keeps Shoulders in Good Shape
Nylon lined shoulder area to keep hair slick and prevent shoulder rubs.
Leg Straps Included
Detachable Elastic leg straps help keep the sheet in place.
Better Gusset Design
Gussets extend higher to allow greater freedom of motion.